8000watt BLDC Dual hub Motors

72v Up to 55+MPH / 60V Up to 45+MPH

(depending on rider weight, state of charge,road conditions, etc.)

35-60°( depending on rider weight and state of charge,etc.)

Note:It is necessary to avoid long time sustained high load on high slope, causing high temperature of the controller motor and damaging the life of the scooter

13" widened anti-skid tubeless road tires

Hydraulic brake+Electronic blackout brake

Dual Font Hydraulic Suspension + Dual Rear Spring Suspension

Double headlight + Acrylic board light + Turing light(front + rear )
---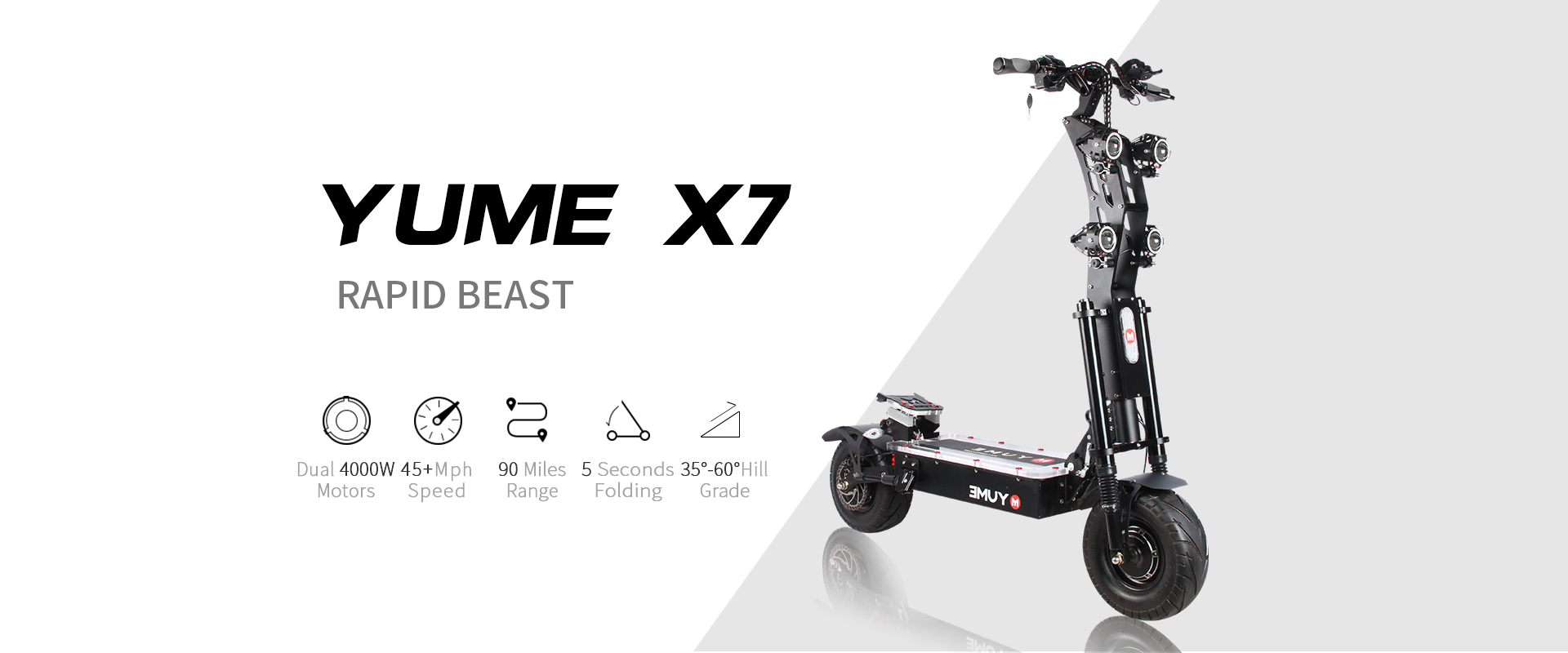 ---
 YUME X7 Rapid Beast
The X7 has 8000W dual brushless motors, double motorcycle-grade shock absorption,
ergonomic design, aviation Grade aluminum alloy frame,
stable three-pole motorcycle shape with an attention demanding light set-up.
We use the best accessories and superior components in the same class of scooters to ensure
its strong quality and excellent performance.
---
Customized 8000Watt BLDC Dual hub Motors
The Yume X7 customized 8000W dual brushless motors and 13" highway tires are specifically tailored for high-speed driving and is carefully optimized for performance, efficiency, responsiveness and longevity. Combined with a 90Ah high-power controller, it can quickly reach the highest of speeds and easily climb a slope of 35-60 degrees.
High battery life
The YUME X7 uses a Panasonic's vehicle use power lithium battery, providing 90 miles of travel (50ah configuration). The X7 is also equipped with over-current protection, short-circuit protection, temperature abnormality protection, over-receiving protection, over-discharge protection, and under-voltage automatic sleep, and other safety features. The X7 supports 5A fast charging and dual charging, increasing your possibilities. The charging safety performance is optimized, safe and worry-free.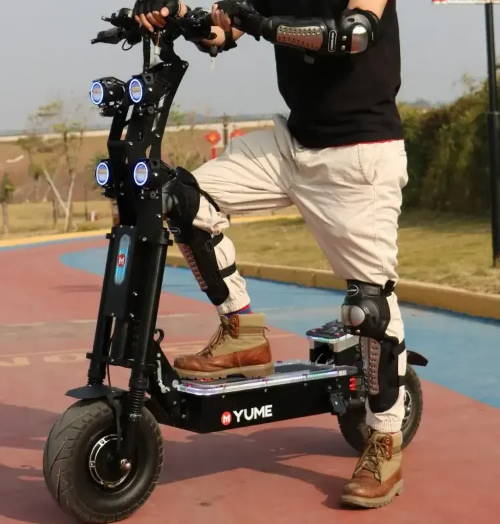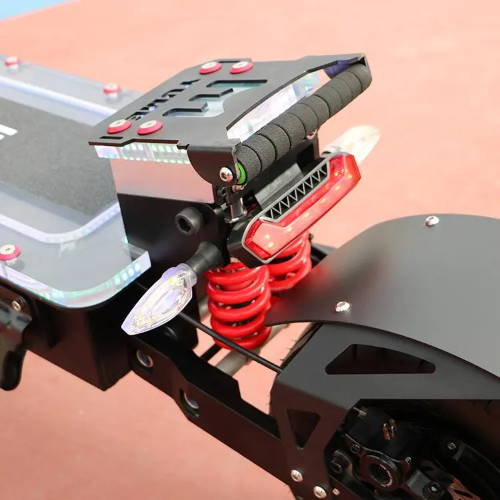 Double Motorcycle-grade Hydraulic Suspension
In order to improve stability that the majority of E-scooters on the market struggle with, Yume made it a priority to focus on optimizing the shock absorption suspension. The X7 uses dual motorcycle-grade front shock-absorbing suspension paired with dual-spring rear shock-absorbing suspension, greatly improving the shock-absorbing performance of the X7 and giving the X7 a brand new and unique comfort level that will stand out from other E-scooters on the market. The experience is as smooth as butter, whether you're on a rough city road, in sand, muddy fields and most importantly at high speeds.
Smart Display
The YUME smart display can display gear, speed, average speed, and battery power(*Optional color LED display, larger screen, more clear).With 3 speed adjustment, 2 power modes and dual motor control will allow easy control of the X7's power and speed.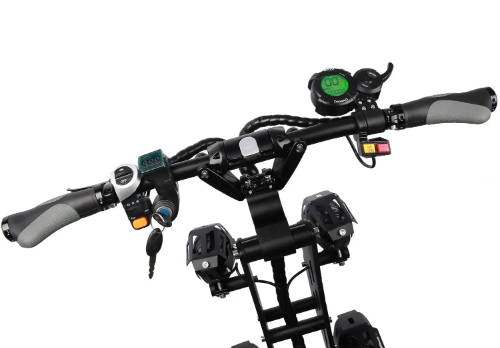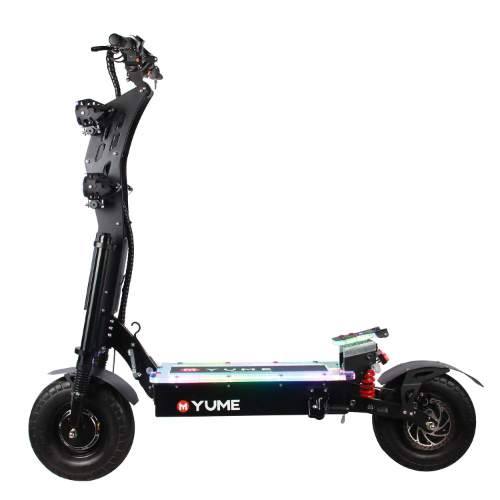 Widened Acrylic Pedal And Road Tires
We equipped the YUME X7 with 13" widened anti-skid tubeless road tires, which have first-class shock absorption and superb high-speed grip, providing better performance at high speeds. The Special wide tires and acrylic pedals also helps provide a better more stable riding experience.
Aviation-grade Aluminum Alloy Frame
The frame is made of aviation-grade aluminum alloy, which can increase the strength while reducing the weight of the body, and is strong and wear-resistant, and will not rust. YUME STRONG!
Ergonomic design
Well-designed handle angle and grip material, will make long journey more comfortable and easier.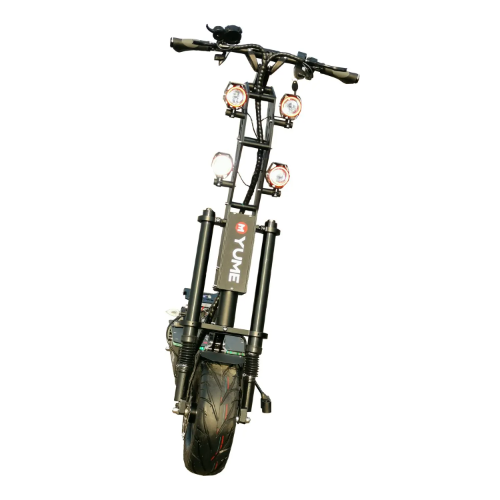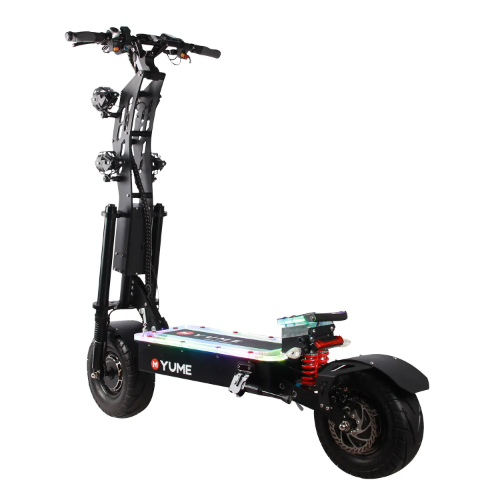 Hydraulic brake + Electronic ABS system
The large-diameter front and rear hydraulic brakes greatly improve the brake feel and sensitivity compared to traditional disc brakes. Equipped with an electronic ABS system, it can provide accurate and safe braking capabilities at high speeds.
Adjustable high-grade Acrylic Light Strip
The YUME X7 optional remote controlled high-grade acrylic light strip provides 7 basic colors (blue, red, green, white, pink, purple, yellow). The Led setup also supports mixed colors and a variety of lighting modes. When the night comes, you will absolutely love its brilliance and will make you stand out from the pack.
*optional configuration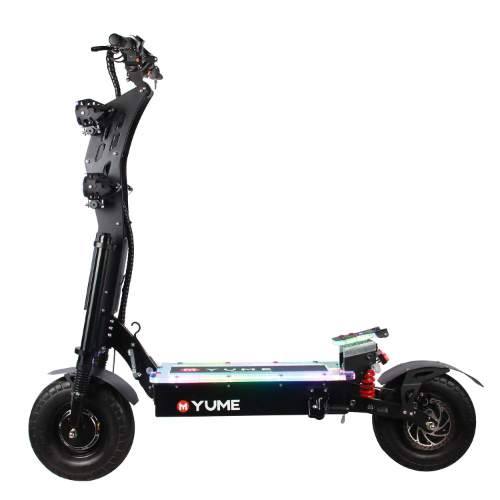 ---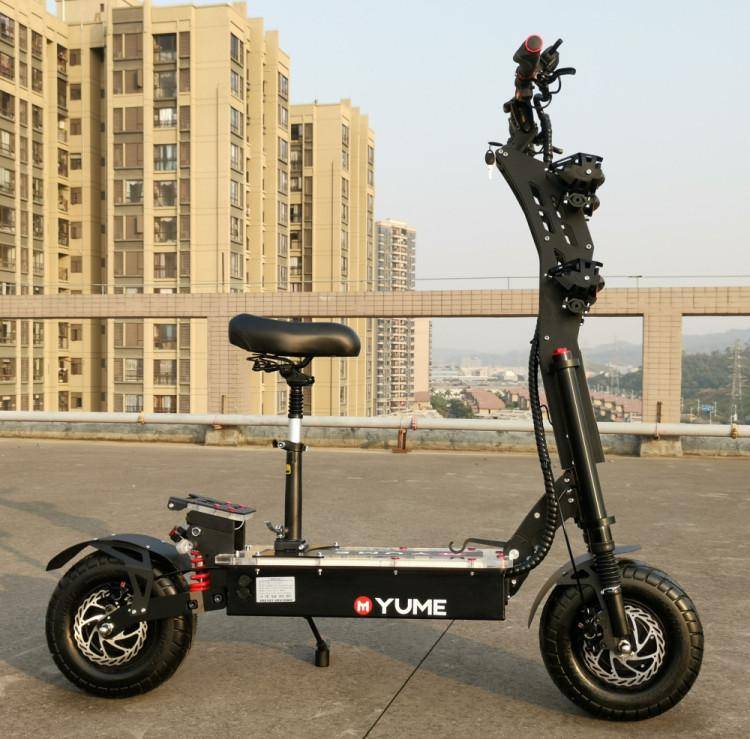 Detachable seat, turn into a motorcycle in minutes (*optional configuration)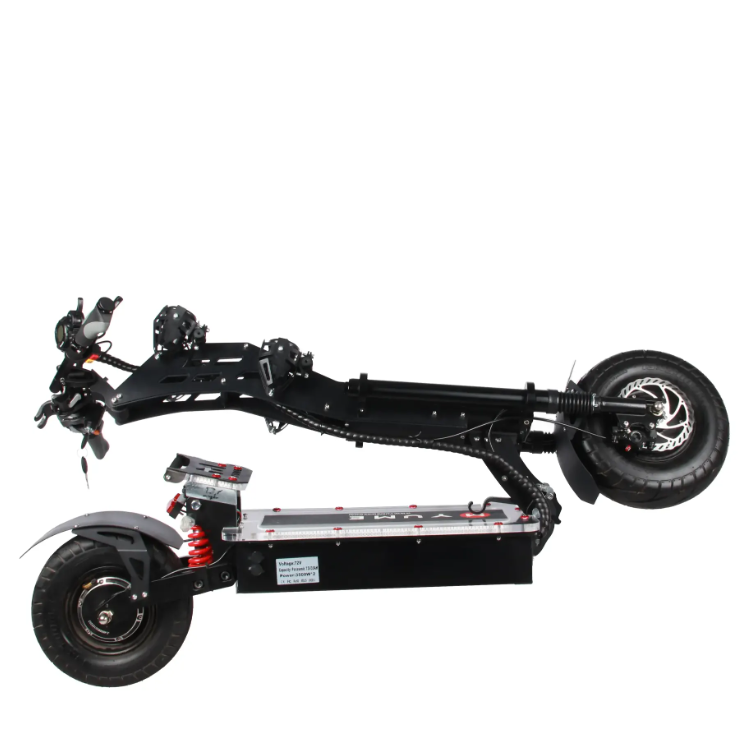 YUME X7 can be folded in a few seconds
Two pairs of glowing LED angel eyes
A pair of genie ears for turn signals
---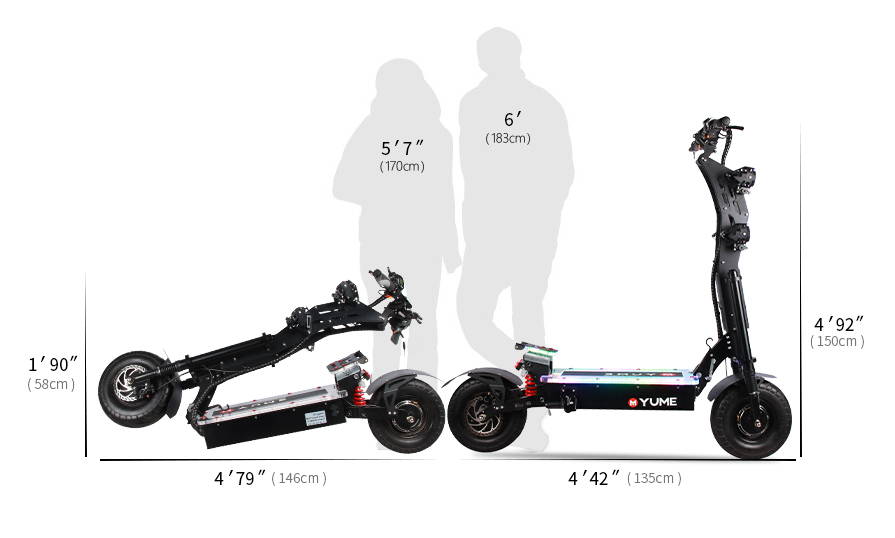 What comes in the box?
1x Electric scooter
2x Charger
1x User manual
1x Remotekey for colorful lights
1x Bag (gift)
1x toolkits (gift)
1x Seat

(optional configuration)
Shipping
This product only can be shipped and support duty-free fast Shipping to the following countries at present:
USA,United Kingdom, Denmark, Spain, Ireland, Netherlands, Portugal, Lithuania, Hungary, Slovakia, Romania, Finland, Bulgaria,
Croatia, Austria, Italy, Sweden, France, Czech Republic, Belgium, Poland, Estonia, Greece, Germany, Luxembourg, Latvia, Slovenia
*Europe stock ,Duty Free Fast Shipping.Offer After Sale Service in Europe.
*USA stock ,Duty Free Fast Shipping.Offer After Sale Service in USA.
In stock products, when ordered will receive within 7 days.
Factory delivery requires 30-45 days shipping time
And products can be shipped to countries except EU&US area.
1. To Russia, take 20-30 days (except remote area)
2. To Malaysia, Thailand, South Korea, Singapore take 7-15 days
The above is the approximate delivery time according to our experience.We will do our best to provide reliable shipping service and hope it'll arrive on time.
However, the delivery may be delay due to Custom Clearance, Public Holiday, Bad Weather, Airline Strike, Hurricane Sandyand and so on.
Thank you for your understanding!
Warranty & Returns
YUME Warranty & Returns policy :Click Here
SAFETY TIPS
YUME SCOOTER SAFETY TIPS : Click Here