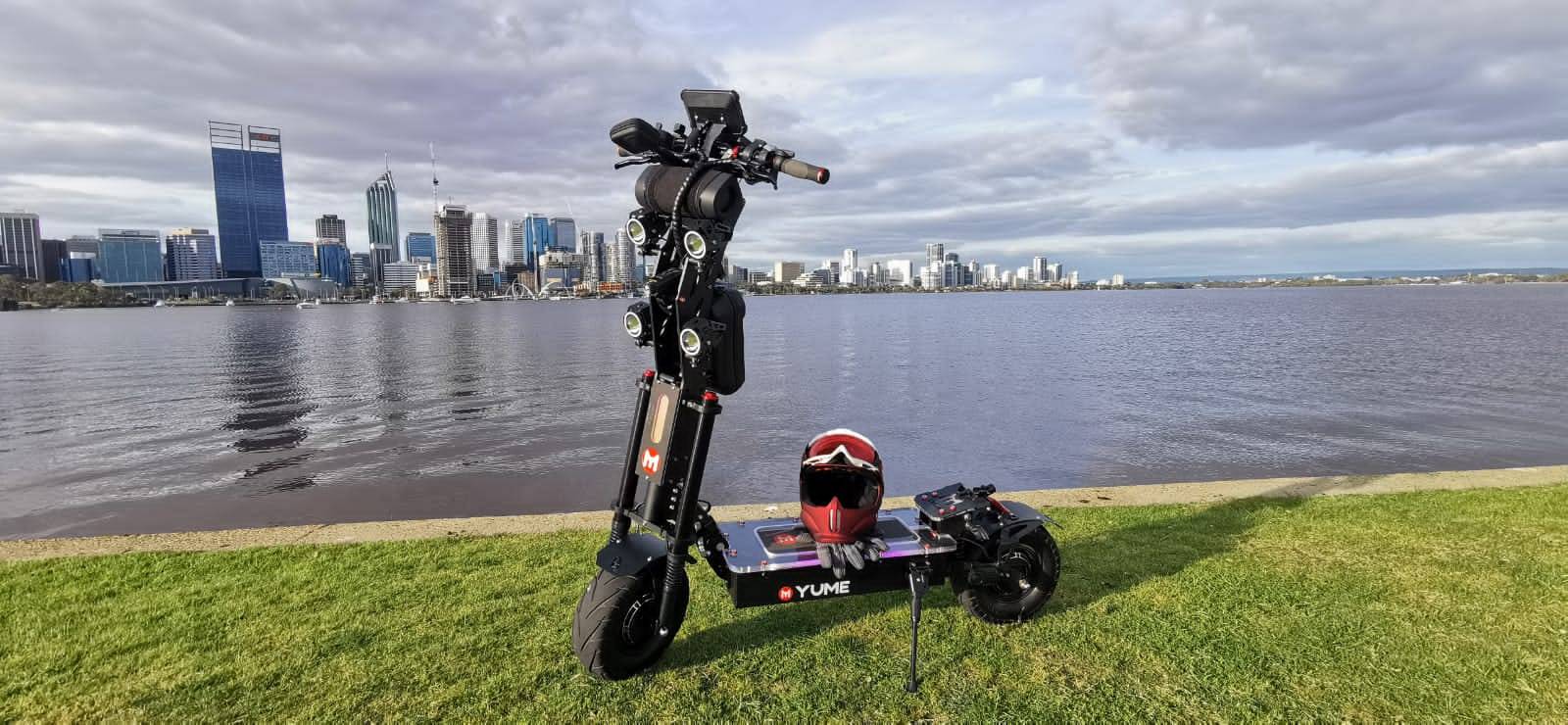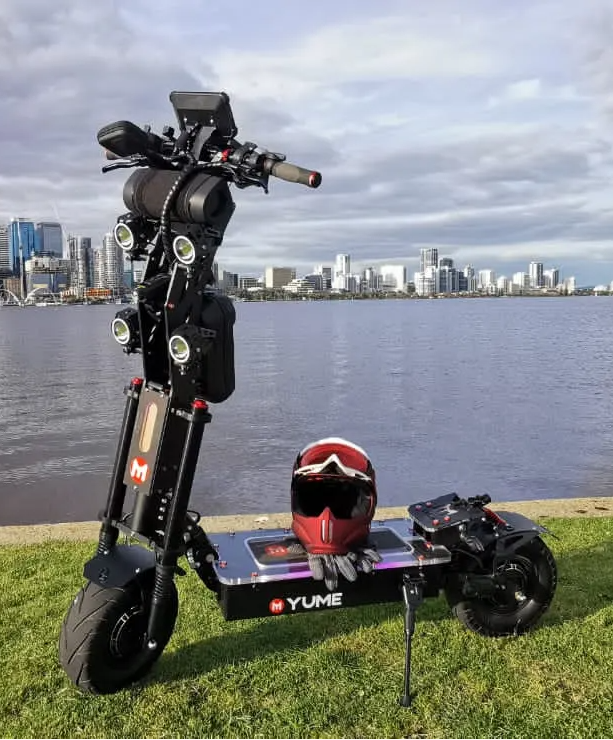 YUME X7 RAPID BEAST
The X7 sports a 8000W dual brushless motor, double motorcycle-grade shock absorbers, an ergonomic design, aviation-grade aluminum alloy frame and a stable three-pole motorcycle shape with an attention-grabbing light set-up. Of course, we use the best accessories and superior components in our scooters to ensure high-quality and excellent performance.
---
Customized BLDC Dual hub Motors
The Yume X7's customized 8000W dual brushless motor and 13-inch highway tires are specifically tailored for high-speed driving and are carefully optimized for performance, efficiency, responsiveness and longevity. Combined with a 90Ah high-power controller, the X7 quickly reaches up to 55 MPH and easily climbs a slope of 35-60 degrees.
High Performance Battery and Durable Battery Life
The YUME X7 uses the Panasonic vehicle's power lithium battery, providing 90 miles (50Ah configuration) of travel range. The X7's battery is also equipped with diverse ranges of protection against overcurrent, short-circuit, temperature abnormality, over-receiving, over-discharge, and under-voltage automatic sleep. Of course, it boasts of other safety features as well. The X7 supports 5A fast charging and dual charging, increasing your user possibilities. Also, the charging performance is optimized for safety.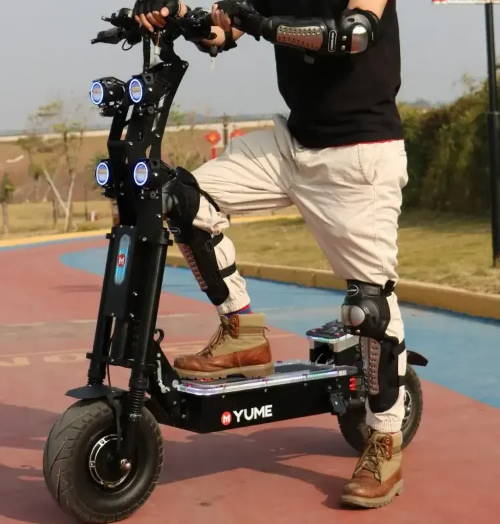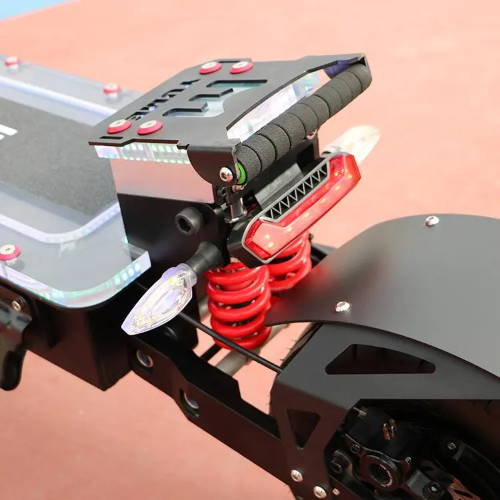 Double Motorcycle-grade Hydraulic Suspension
In order to improve stability, which has been a struggle for the majority of e-scooters on the market, Yume made it a priority to focus on optimizing the shock absorption suspension. The X7 uses dual front motorcycle-grade shock-absorbing suspension paired with dual rear spring shock-absorbing suspension.
The greatly improved shock-absorbing performance of the X7 gives it a unique comfort level that stands out from other e-scooters on the market. With YUME X7, riding experience is as smooth as butter, whether you're on a smooth city road, rough countryside roads, on sand or in muddy fields. And most importantly, this scooter makes riding at high speeds seem like a piece of cake; all thanks to the double motorcycle-grade hydraulic suspension.
Smart Display and Easy Control
The YUME X7's smart large screen displays the gear, speed rate, and battery level. It also has optional color LED display and is much clearer than your regular scooters' screens. With the X7's 3 speed adjustment, 2 power modes and dual-motor control, you can easily control its power and speed. So, say hello to top-tier control while riding.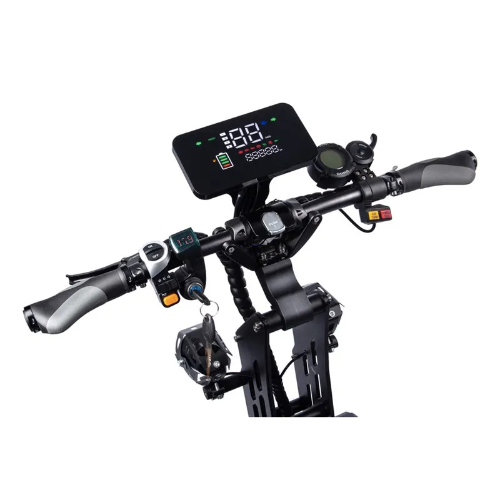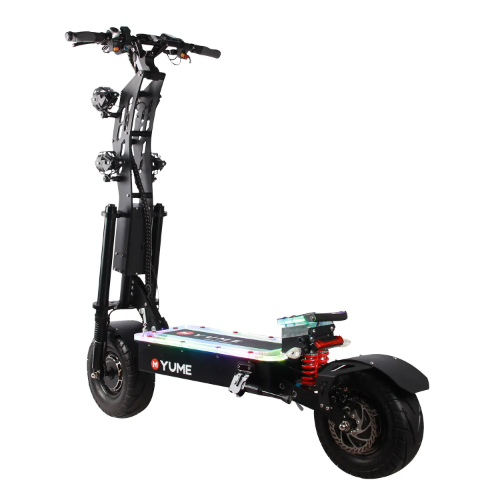 Hydraulic brake + Electronic ABS system
The X7's large-diameter front and rear hydraulic brakes greatly improve the brakes' feel and sensitivity compared to traditional disc brakes. Equipped with an electronic ABS system, YUME X7 provides accurate and safe braking capabilities at high speeds.
Aviation-grade Aluminum Alloy Frame
The frame is made of aviation-grade aluminum alloy, which increases the scooter strength while also reducing the weight of its body. It is also wear-resistant and so won't rust.
Ergonomic design
YUME X7 features well-designed handles which offer steady and comfy grips to make riding more comfortable and easier.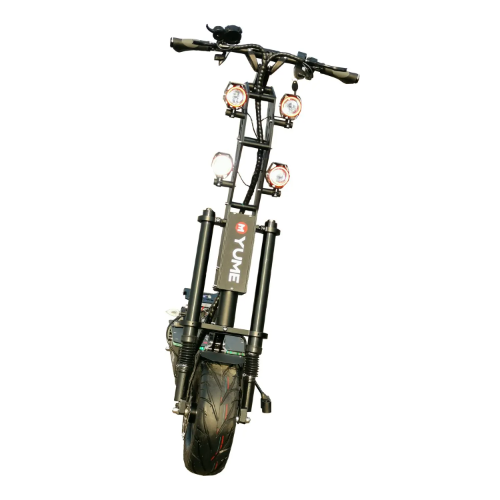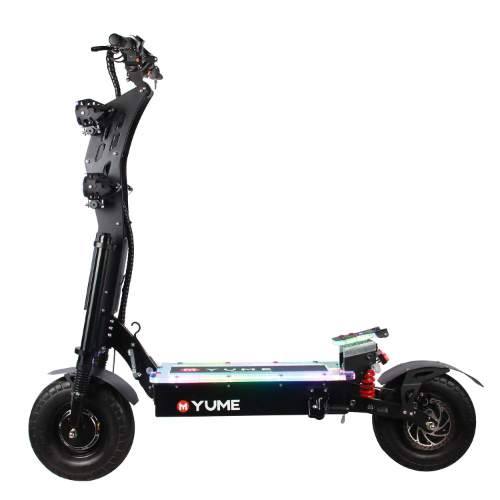 Widened Acrylic Deck And Off-roading Tires
We equipped the YUME X7 with 13" widened anti-skid tubeless road tires which have first-class shock absorption and superb high-speed grip, providing better performance at high speeds. The special wide tires and acrylic Deck also help provide a more stable riding experience.
Adjustable High-grade Acrylic Light Strip
YUME X7's optional remote-controlled high-grade acrylic light strip provides the 7 basic colors (blue, red, green, white, pink, purple and yellow). The LED setup also supports mixed colors and a variety of lighting modes. While riding at night, you'll absolutely love its stand-out appearance and brilliance.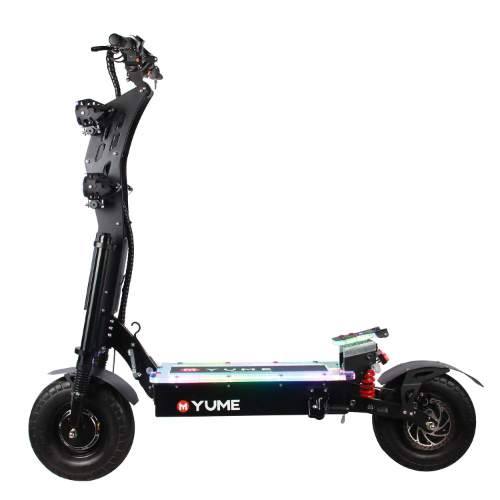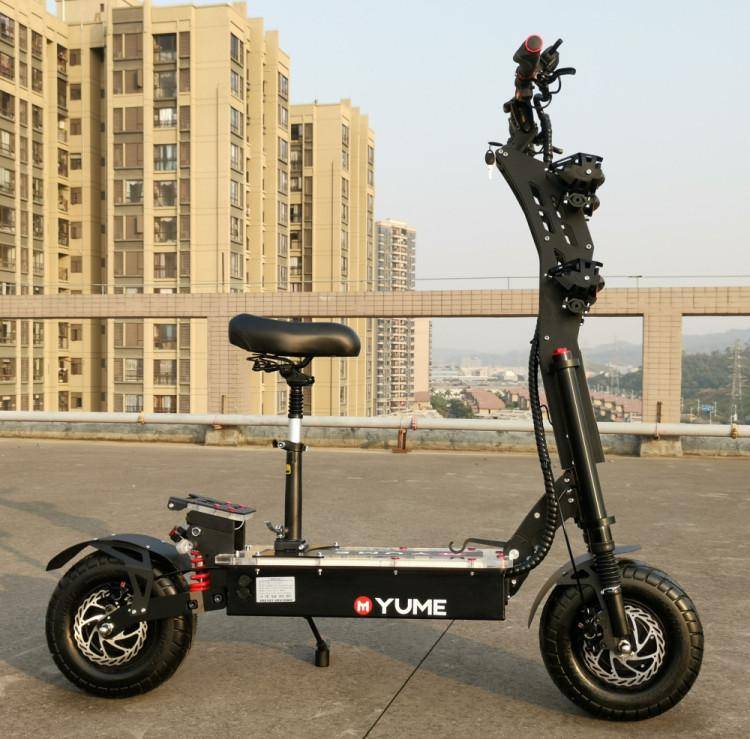 Detachable seat, turn into a motorcycle in minutes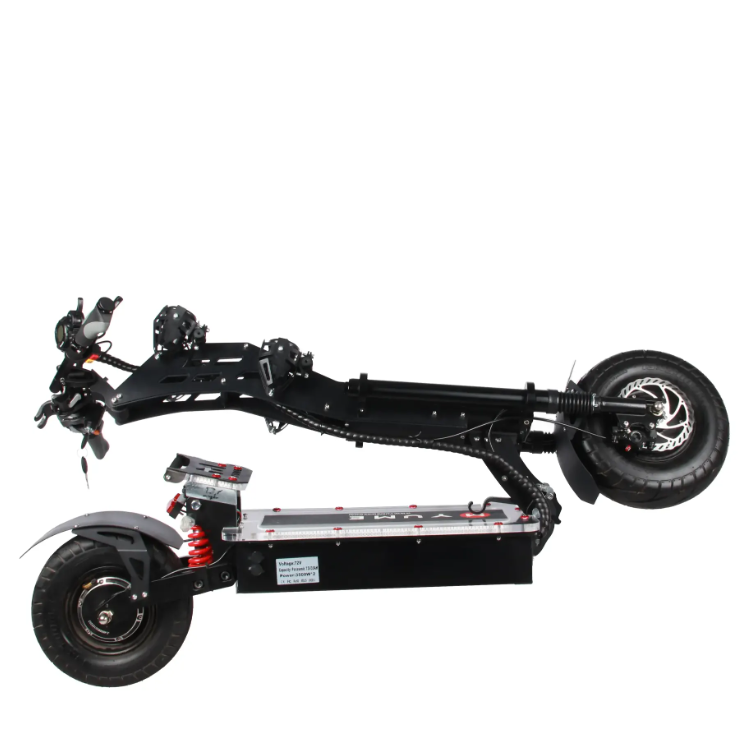 YUME X7 can be folded for portability
Two pairs of glowing LED lights (angel eyes)
A pair of genie ears for turn signals
---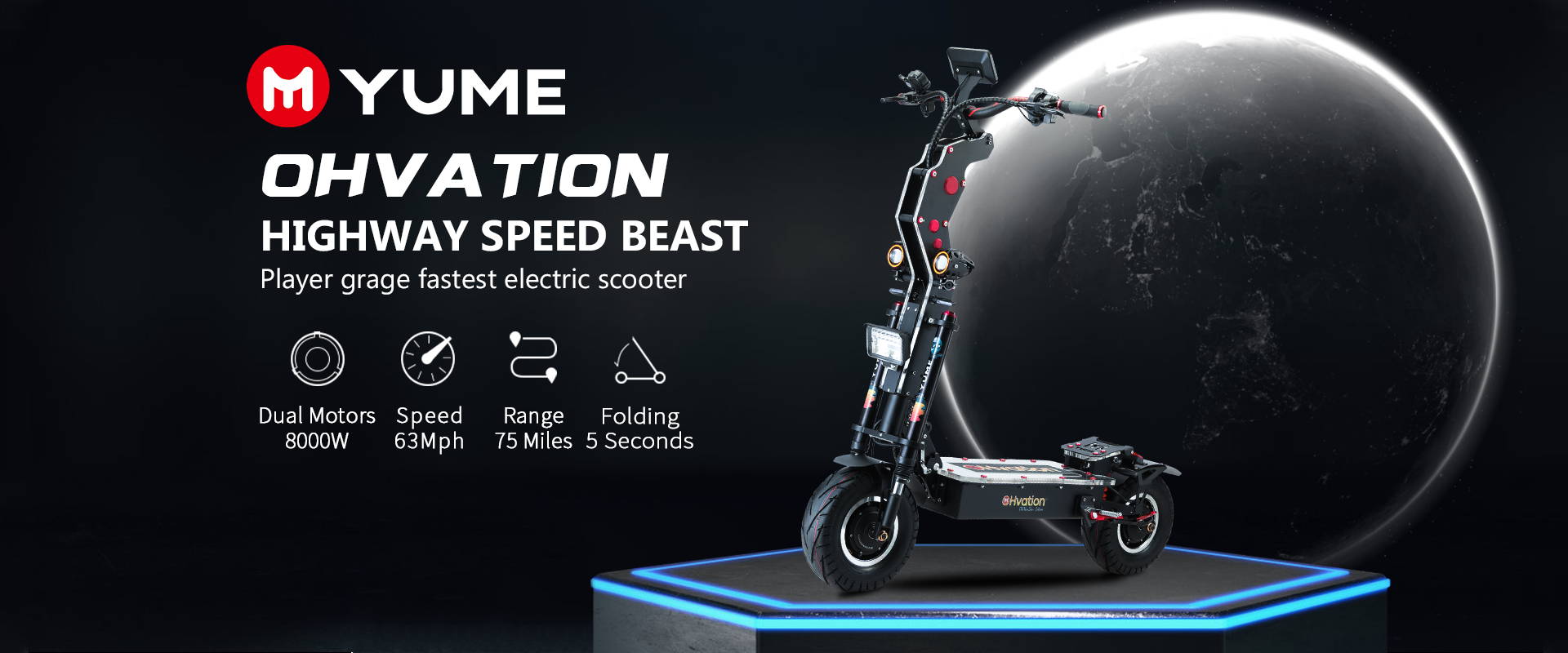 Ohvation is a high-end version based on X7.
Cooler styling and better configuration.
Max Speed up to 63Mph.
Motor: 8000-watt BLDC Dual Hub Motors with hall sensor
Max Speed:

72v Up to 55+MPH (depending on rider's weight, state of charge, road conditions, etc.)

Battery: 72V 45Ah Panasonic21700
Range: 80Miles
Hill Grade: 35-60° (depending on rider's weight, hill slope and state of charge etc.)
Tire: 13" Widened Anti-skid Road Tires with Inner Tube
Brake: Hydraulic Brake+Electronic Blackout Brake
Suspension: Dual Font Hydraulic Suspension + Dual Rear Spring Suspension
Light: 4 Big U7 Front Led Lights + Brake Light + Rear Turn Signal + Horn

Acrylic Board:

Deck Highend Colorful +Rear Acrylic Lights

IP Rating: IP54
Weight: 120lbs/55KG
Charger: 8-10hours
Maximum load: 330lbs/150KG
Motor: 8000-watt BLDC Dual HC Motors with hall sensor
Max Speed:

72v Up to 63MPH (depending on rider's weight, state of charge, road conditions, etc.)

Battery: 72V38.4AH LG cell 18650
Max Range: 120Km/75Miles
Controllers: 2*50A max current controller with 18 mosfet
Display Features: DAMAO-Smart display with riding mode setting ability .Over heat protection built in / IP65
Acrylic Board: Stem+Deck+Rear highend acrylic lights
Lighting: 1big square front led lights and 2 big U7 front led lights + Brake light + Front and rear turn signal + Horn
Handlebar: 31.8mm diameter , 720mm length unfoldable sporting handle bar
kickstand: High end color kickstand
Standard Charge Time: 12 hours charging time with two chargers is 6 hours
Brake: Front and Rear Hydraulic disc brake with 160mm rotor and cooling fin pad
Tires: 13 inch street tire
IP Rating: IP 54 for the whole scooter
Frame: One piece aviation aluminum welding frame , Solution and aging heat treatment
Suspension: Front:2 Hydraulic suspension Rear:155mm length KS spring suspension
Charger: Standard 2x 2A charger , Dual charging port in the scooter
Scooter Weight: 64KG
Package Weight: 67KG,10.1KG
Overall size: 1450*290*1330mm
Hanlde bar to deck: 780mm
Deck cover: 620*290mm
base,Top of the deck to the ground: 200
Size when folded L*W*H: 1450*690*630mm
Package size: 1480*400*680,710*370*220mm
Test Condition: 60kg load, 25 degrees of ambient temperature Based on the flat road 30km/h constant speed driving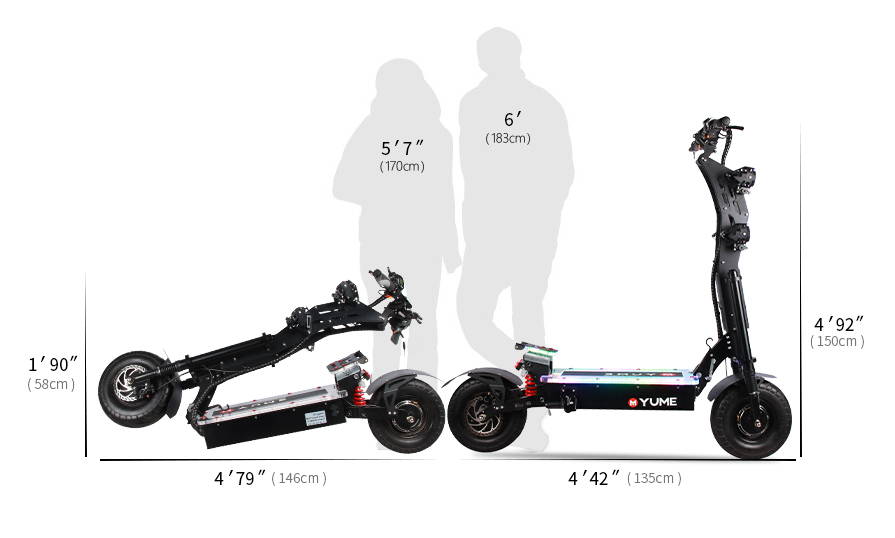 The Electric scooter

2 Chargers

A User Manual

A Remote control for Colorful Lights

A YUME Bag (gift)

Tool kits (gift)
Deck and Pedal Acrylic

A Removeable Seat

 

Deck Sticker

Screws
(*X7 will be sent by two express packages)
Shipping
Delivery Duration:
In-stock products shipped from the US and Europe warehouses are usually delivered within 3-7 days after order. Depending on the delivery destination, it could take slightly longer, though. On the other hand, in-stock shipment from China (factory) is delivered within 14-40 days.
This product supports fast shipping to the following countries:
Austria, Belgium, Bulgaria, Croatia, Czech Republic, Denmark, Estonia, Finland, France, Germany, Greece, Hungary, Ireland, Italy, Latvia, Lithuania, Luxembourg, Netherlands, Poland, Portugal, Romania, Slovakia, Slovenia, Spain, Sweden, United Kingdom, and the USA.

*Europe stock – Duty-free fast shipping and after-sale service.
*USA stock - Duty-free fast shipping and after-sale service.

1. To Russia takes 20-30 days (except remote area)
2. To Malaysia, Thailand, South Korea, Singapore takes 7-15 days
Note:
The above is the approximate delivery time according to our past experiences. We always strive to provide the very best reliable shipping service and hope our products arrive at their destinations on time. However, the delivery may be slightly delayed due to customs clearance, public holidays, bad weather, airline strikes, etc. Nevertheless, our shipping service will always keep you updated on the shipping status of your order.

Thank you for your understanding!
Warranty & Returns
YUME Warranty & Returns policy :Click Here
SAFETY TIPS
YUME SCOOTER SAFETY TIPS : Click Here